Auto-alignment
To increase the signal to noise ratio it is necessary to take many images and then sum them. Quick and precise auto-alignment becomes an important requirement.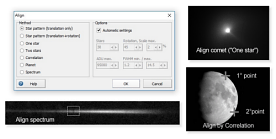 Astroart is able to align automatically astronomic images which have at least three stars, and it contains other algorithms for spectrums, comets, planets and wide objects.

Trichromy
Astroart fully supports RGB and CMY tri-colour imaging as well as LRGB and LCMY, with standard L*A*B colour conversion.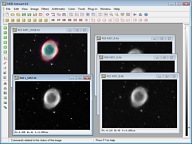 This example shows the benefits of using a fourth frame (luminance). Bad tracking and noise in the colour frames don't affect the sharpness of the final image.
Demosaic (Debayer)
Colour cameras and DSLRs needs to reconstruct the colour information from RAW images.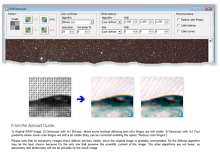 Many white-balance algorithms, with realtime preview, let you easily synthesize the best colours, both for visual and scientific purposes.


Common pictures
With Astroart it is possible to apply the most powerful filters like Deconvolution and FFT to your own photos.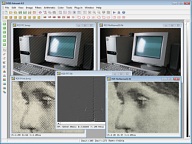 Working with 96 bits (32 for every R,G,B channel) it is possible to correct better the defects and to balance accurately the colours.